For hair extensions near you, choose Caprio's Hair Studio. Based in Kingswinford, but close to local areas including Halesowen, Dudley, Stourbridge, Brierley Hill, Wombourne, and Stourton, we are an award-winning salon that specialises in unisex hair and hair extensions near you.   
As a winner of Great Lengths 'Silver Salon Of The Year 2014/15' and Outstanding performance and finalists of Gold Salon Of The Year 2016/17 and Classic Creation-Volume 2016/17, we are the hair salon you can trust for fabulous results every time.
Hair Extensions at Caprio's Hair Studio
Hair extensions are the perfect addition to any head of hair to add volume, length, or colour dimension. At Caprio's Hair Studio, we are a GOLD Status Salon and specialise in hair extensions near you that will transform your look into something you have always dreamed of! Do you feel your hair won't grow past a certain point? Or maybe you want to experiment with colour but are worried it may turn out bad and you are afraid of the damage to your hair?
Well, hair extensions are the ideal way to change your look without it being permanent! And with a huge range of colours and hair lengths available, we will be able to provide you with hair extensions that will achieve the look you're after.
With over 20 years of experience in hair revolutionizing, we are your first choice when it comes to hair salons for hair extensions near you. We supply only the best for our clients, and that's why we stock Great Lengths, who have been world leaders in hair extensions since 1992 and provide products that are of premium quality.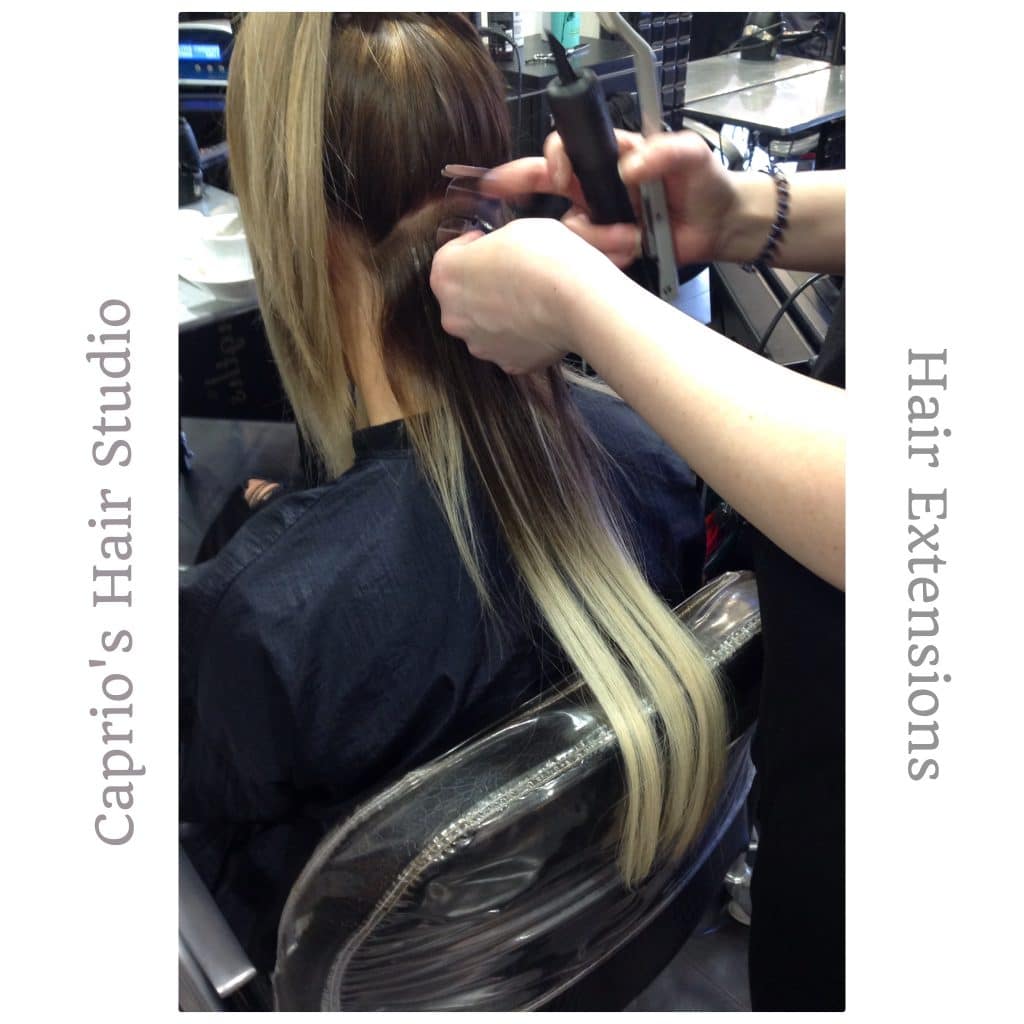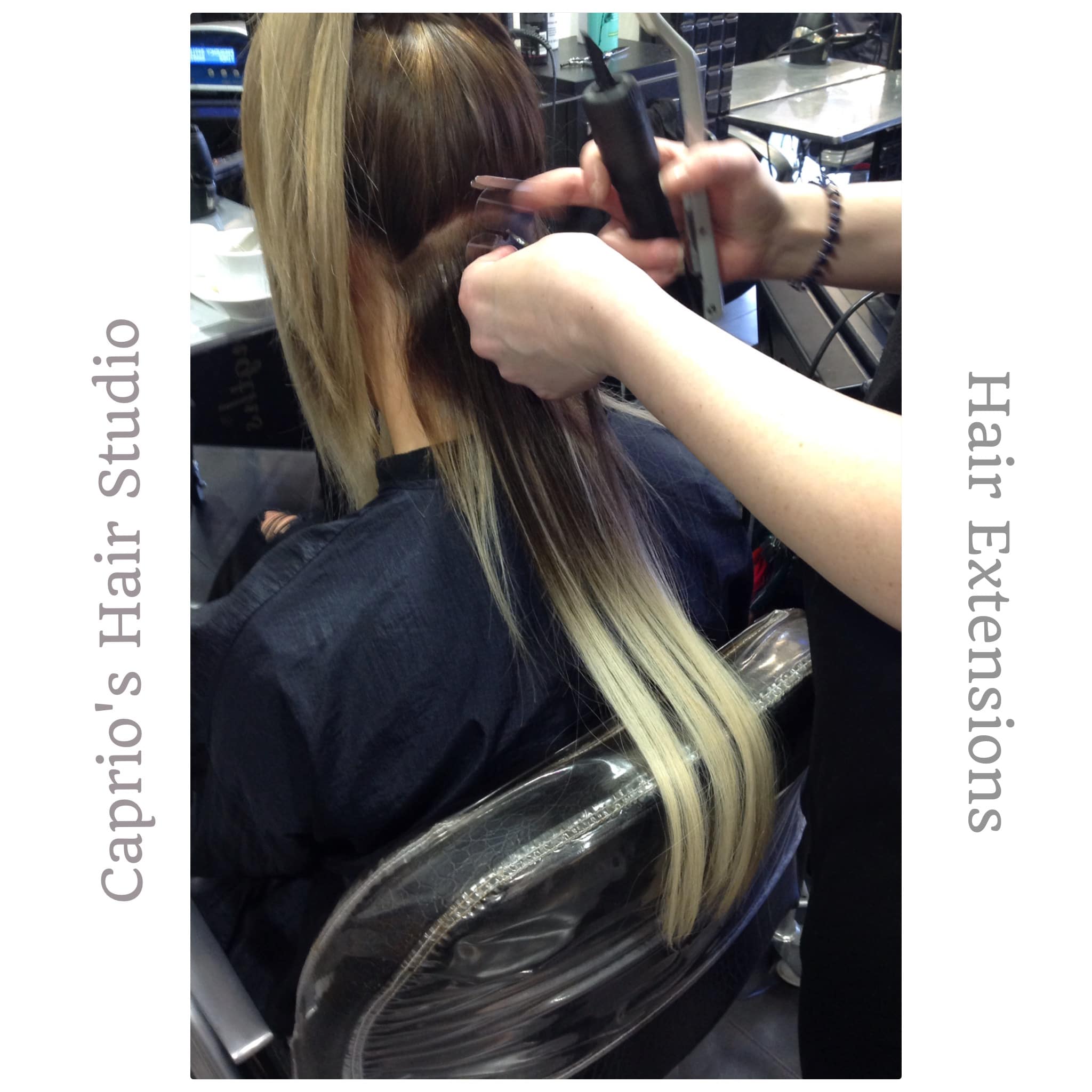 Great Lengths Hair Extensions Provided By Us
The hair extensions we use at Caprio's Hair Studio are provided by Great Lengths, which are made of 100% human hair that is sourced ethically from Indian Hindu Temples, where it is donated voluntarily for religious practices and then bought through official auctions. Manufactured to the highest quality, Great Lengths towers above the rest thanks to its high level of craftsmanship, the Made in Italy production process, and thorough care put in by experienced artisans who take care in each individual strand.
When you choose Caprio's hair studio for hair extensions near you, you are getting 100% high-quality human hair extensions near you that look and feel totally natural. We opt for the "cold fusion" application, a single-strand system that generates almost no heat while being used. We create tiny flat linkages that fan out the individual hair strands, which are likewise almost imperceptible. The hair will appear and feel completely normal and for people with finer, more heat-sensitive hair, cold fusion offers additional protection while producing excellent results and longevity.
How Long Do Hair Extensions Last?
At Caprio's Hair Studio, our hair extensions near you typically last 3-6 months, though this varies from person to person. During this period, some people may progressively lose hair strands, especially if their hair is finer. All of this will be explained to you during the consultation process by your extension stylist.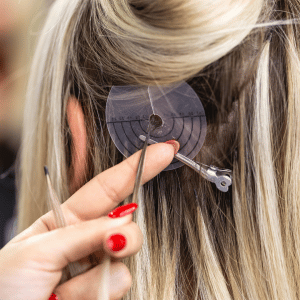 Prices are given during consultations, but as a general rule, a full head of average hair that has been given a little extra thickness and length starts at £580. The typical recommended price is £950 for significantly longer hair and for thicker heads of hair. Find out more about our hair extension prices near you.

When your extensions have reached the end of their lives, we will remove them in the salon for you. You may find that you lose a few strands over time, and the reason for this is that the extensions are wrapped around your own strands of hair, so once they are naturally released from the scalp, there is nothing for the extension to stay attached to.
You won't, however, ever naturally lose them all, which is why we will do it for you by dissolving the bond with a gentle solution created by Great Lengths. Once they are all gone, we will comb the hair through, clean, cut, and style your hair to get it ready for the following set, or not, depending on your preference. There is a minor fee for removals because the entire process can take up to two hours.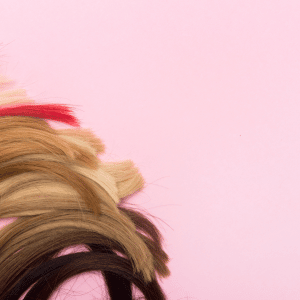 Caprio's Hair Studio is your first choice for hair extensions near you in Kingswinford, as we will provide a friendly, trustworthy, and quality service to you. Contact us today on 01384 402 890 or head to our website for more information or to book an appointment.