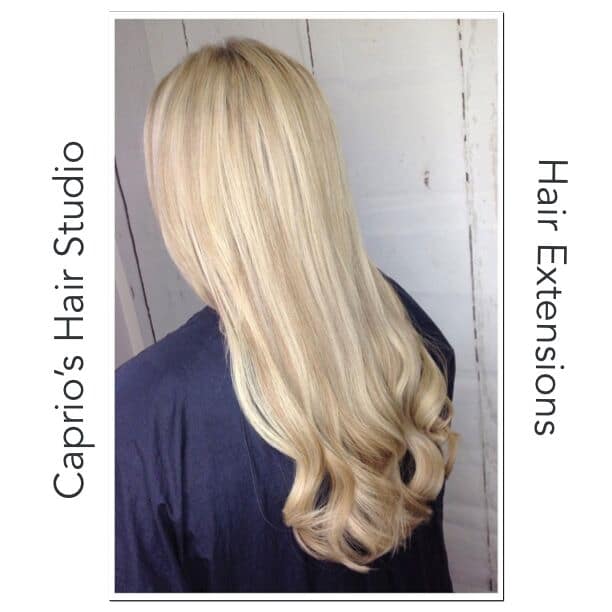 Hair Extensions Stourbridge
Are you looking to add length, volume or thickness to your hair? Caprio's Hair Studio is a hair dressing salon based near Stourbridge, in Kingswinford. We offer an affordable, yet luxurious hair extension service using Great Lengths hair extensions. Our service will provide you with the hair you have always dreamt of and the best of it, we can achieve it in a few hours!
As mentioned, our chosen provider is Great Lengths, who provide 100% human hair extensions. The hair is long-lasting and as the bonds are PH balanced, does not damage. The company can guarantee the origin, quality and ethnicity of all hair supplied to salons like Caprio's Hair Studio located near to Stourbridge. This is due to the fact that Great Lengths are the only hair extension company to both source and produce their own hair.
Your consultation/ fitting appointment
During your consultation, we will run through the do's and don'ts of hair extensions, colour match your hair and discuss maintenance routines etc. As well as this, your extensionist will be able to answer any questions you may have. From this point, we will be able to book you in for your fitting appointment and order the colour-matched hair.
At your fitting appointment, one of our extensionists will fit your new hair for you by the cold fusion method. This application is a single strand application method that delivers virtually no heat during the process. Flat bonds are produced which fan out the individual strands of hair and therefore create an undetectable, unnoticeable look.
Benefits of hair extensions
There are many benefits to hair extensions. Some of which include:
Adding thickness, length and/ or volume to your hair.

Can be easily removed.

Every fitting will last between 6 and 8 weeks depending on how well you maintain it and the natural growth of your hair.

They do not damage your natural hair.
We have been awarded many rewards for our hair extension work and are a Great Lengths gold status salon. Recognised for our expertise, we won 'silver salon of the year' for outstanding performance 2014/15 and the following year were promoted to a 'gold status' salon. Since then, we have been finalists for 'gold salon of the year' and 'classis volume creation of the year' in 2016/17 and again in 2018/19.