Available soon at Caprio's
NEW & AVAILABLE SOON>>>>>>>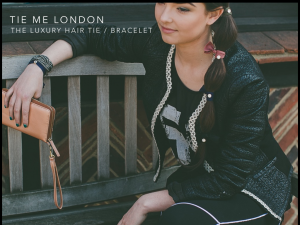 For those of you with long hair and those of you with short hair but daughters with long hair…..you're going to love these.….
Ponytails just got classier with the launch of 'Tie Me London', the luxury hair tie/bracelet. Scrunchies are best left in the '80s and a plain old elastic hair band just don't scream style. If like me you're a ponytail lover but just don't know what to cover your hairband up with, then this is perfect for you. Developed by Anouska Wood these Hair Ties not only look classy in your hair but when you've got in on your wrist (for those emergency ponytail moments) it looks like a bracelet or a nice piece of arm candy. Elegantly crafted to hold any hair type and finished with a sparkling Swarovski Crystal in a 22 karat casing, designed for comfort and style……designed FOR YOU.
Tie Me hair ties will be available at Caprio's from Monday 18th May. You've got 4 colours to choose from, Black(of course!),Navy Blue, Blush and this seasons hottest colour Olive. Now I know what you're thinking…..Swarovski Crystal.….22 Karat Casing…..these aren't going to be cheap….but your wrong, priced at ONLY £9.99, you can afford to have one to match every outfit.
Follow us on Facebook to find out when they arrive in Salon CLICK HERE