Ten reasons why you should purchase your home haircare from Caprio's Hair Studio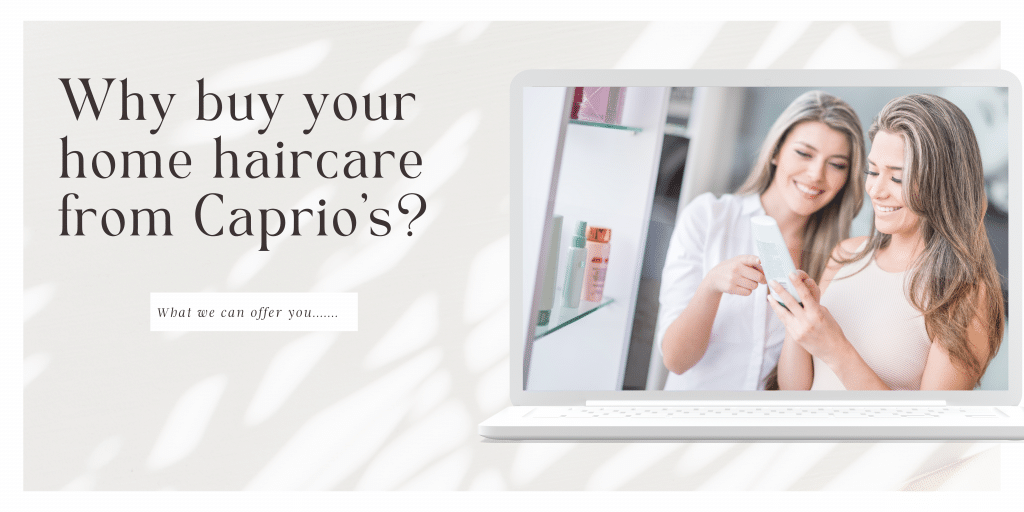 Why choose our salon for your home hair care needs?


The quality of the hair care products you use between salon visits greatly impacts the longevity and performance of your salon colour.

While we cannot guarantee specific results, we can help you optimize your salon colour and prolong its vibrancy.

The quality of ingredients in shampoos, conditioners, and styling products can vary. For example, shampoos with silicone should be water soluble to prevent buildup. Silicone buildup may give the appearance of shine, but it actually hinders the hair color's coverage by preventing colour molecules from penetrating the hair structure.

Salon professional products contain higher quality ingredients, which are more water soluble and do not cause buildup on the hair.



1) BUY WITH CONFIDENCE: If a shampoo, conditioner, or styling product you've purchased from us does not suit your hair after two uses, we will exchange it for you.

2) TRY BEFORE YOU BUY: During your salon visit, your stylist will use a range of hair care products to achieve your desired result. You can experience how these products feel and assess their suitability for your hair before making a purchase.

3) TRIED & TESTED: We have personally tried and tested all the products we offer, so we know their performance and which ones are best suited for your hair.

4) PRODUCT KNOWLEDGE: Our stylists have the expertise to help you select the right products for your hair. Unlike supermarket or chemist assistants, they have in-depth knowledge to guide you effectively.

5) BUY QUALITY: Many people end up purchasing multiple hair care products that don't suit their hair, resulting in a cupboard full of half-used bottles. With our higher quality salon products, you will use them all up, avoiding wasted purchases.

6) COLOURSAFE: Our clients who use our home hair care ranges have better results with their hair colour. There will be no unexpected surprises during the in-salon colouring process.

7) pH BALANCE: Hair has a pH of 4.5-5.5. Our stylists are trained to know the pH value of the products we offer, ensuring your hair is brought back to balance after certain chemical treatments. Supermarkets, online shops, and chemists cannot provide this level of expertise.

8) SUPPORT OUR SMALL BUSINESS: Buying from our salon supports our small businesses and helps us thrive.
9) SAVE THE PLANET: Reduce your carbon footprint by picking up your much loved home haircare product's whilst you're in salon or in the salon area this way you will help to reduce packaging and delivery which in turn helps to reduce carbon footprints.
10) GENUINE PRODUCT: There's so many fake goods on the internet. On occasions clients bring into the salon what they think are genuine hair care products purchased from an ON-LINE Retailer but on comparing these with ours immediately discover the bottles are genuine but what is inside is not. Sad but true story. Don't risk it!
Leave the hairdressing to the professionals
Would you ask a dentist for advice on how to fix your car…NO!
Would you ask a mechanic advice on how to grow stronger nails, or a butcher how to alter your best dress….Noooo! Leave hair advice to the professionals, just because chemists and supermarkets stock it doesn't mean they understand it. Each trade and skill to their own is what I say.

There is a science to everything hair including cleansing hair, and we recommend double cleansing. The first shampoo loosens any products and oils in the hair, while the second removes them. Shampoo, being negatively charged, opens up the cuticles on each hair strand to draw out grime, oils, and product. Conditioner, being positively charged, seals the hair cuticles, locking in moisture and color molecules.

As you can see, there are many reasons to trust our salon for expertise and product knowledge.
Want to know more, BOOK in for a Styling/Colour CONSULTATION. You can do this ON-LINE or by calling us.
We are more than happy to guide you on which home hair care suits your hair.

Happy shopping!