Caprio's is awarded Gold
We are proud to share with you our achievement at being awarded GOLD SALON STATUS with Great Lengths Extensions. Over the last 30 months ( 2 years and 6 months to be exact) we have gone from Bronze to Silver and now GOLD. Our Hair Extension work has been recognised as being one of the best in the country. After winning Silver salon of the year 2014/15 we knew what our next goal was and put everything into accomplishing it. It's very rare a week goes by without one of our extension experts transforming clients hair into the hair they've always dreamed of.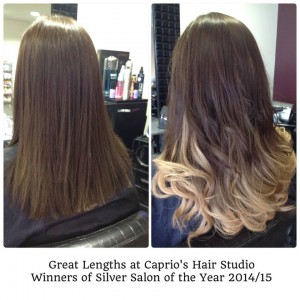 Take a look at some more of our extension creations. Most of our creations are posted on our salon Facebook page for all to see. Being able to transform clients hair from short to long, fine to thick is so rewarding. Applying great,  natural, virtually undetectable extensions is a skill and one that takes time and attention to detail by a great Stylist with a passion for perfection. Having thicker, fuller hair can make some ladies feel more glamorous, more polished and simply just happier in their own skin.   Having a job that makes people feel happier is just great.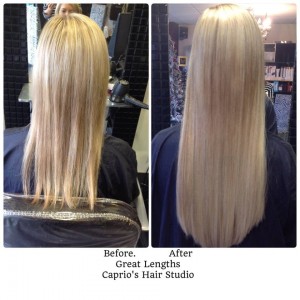 So what's next for Caprio's?…… well this year we will be entering the Great Lengths Awards once again,  being awarded GOLD SALON means we wont be able to compete for our current title of SILVER SALON OF THE YEAR 2014/15,  but, we will be going for title of GOLD SALON OF THE YEAR amongst other categories. Wish us luck and follow our progress on our competition entries on Facebook. For those of you contemplating extensions more info can be found HERE. If you don't find the answer to any of your questions there then please contact one of our experts on 01384 402890. We have 3 salon extension experts, Adele, Jo & Alyssia.  who are always at hand to speak to you regarding Great Length at Caprio's Hair Studio. For more info on our team CLICK HERE.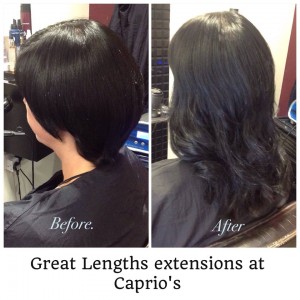 I'd also like to take this opportunity to Thank the team for their hard work and dedication in helping Caprio's to achieve this award. From the team members taking the extension inquiries over the phone to the experts who apply the extensions and not forgetting those of you that like, share and comment on out extension creations on Facebook. Most importantly I'd like to thank our extension clients who keep visiting our skilled extension experts to transform their hair.
We'd like to celebrate our achievement at being awarded GOLD SALON STATUS by offering you a 10% Discount off your first full head application of Great Lengths extensions at Caprio's.