I simply Can't live without….
Our Salon Manager and Consultant Jodie has three products she simply can't live without. Being a busy stylist in the salon she works with all kinds of hair from fine to ultra-thick. Her forte is short hair, she loves to add texture and shape and really tailor hair to the client's lifestyle and hair type.
Here's what Jodie recommends to her clients…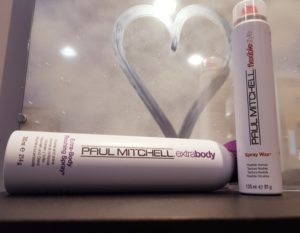 No 1: Spray Wax
Brand: Paul Mitchell
Cost:£ 16.50
I can't live without this product because it's it adds great texture and is easy to use but still lightweight at the same time which means you can use it as a 2nd-day product to rebuild your style.
No 2: Extra Body hairspray
Brand: Paul Mitchell
Cost: £15.50
This might be my second favourite product but it's a No 1 hairspray. its medium hold leaves the hair with flexibility and movement whilst providing a lovely shine. It's easy to brush out too which is an added bonus. Its formula is designed so that each droplet plumps out each individual strand of hair for added volume.
No 3: Styling Potion
Brand: Milk_Shake Lifestyling
Cost: £15.99
I simply can't live without this styling potion, It's just so lovely and has fantastic hold, helps create lots of volume with a non-sticky finish…….smells good enough eat!
Apply a small amount into the palm of your hands then distribute through the hair from root to tip.