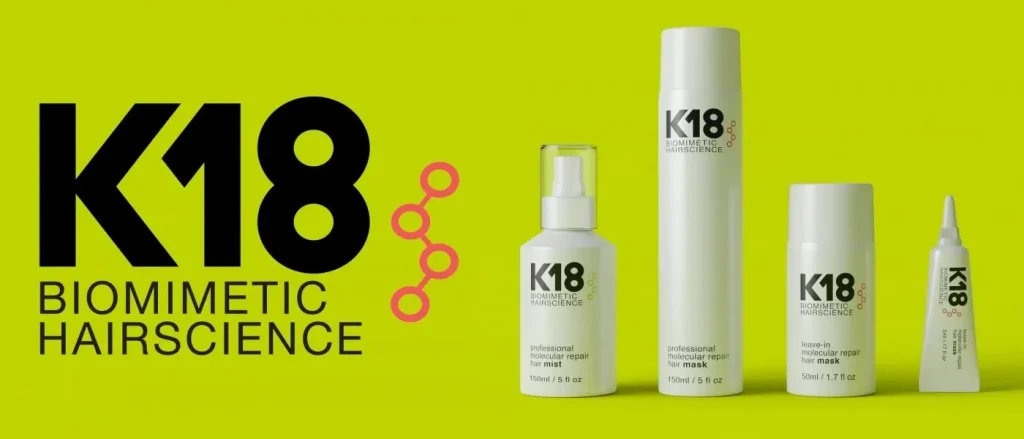 So what is K18?
Lightening hair with bleach is something as hairdressers we do in salon every day. Blondes are lighter, brighter and cleaner than they have been for years. The lightening powders we use today are so much better than they were in the 80's, 90's and even the Millennium. Manufacturers have improved the performance of bleach so hairdressers can get hair to lift to a nicer cleaner blonde results. However we are lightening our hair more and more. Brunettes are going lighter and grey hairs are being lightened even more than they already are so to make sure we can do all of this without compromising the condition of hair… we have to protect it.
K18 is a spray product we apply to the hair prior to your lightening and colour service to prep the hair.
Each strand of hair contains many small ladder like bonds. When hair is coloured, lightened and styled using heated tools such as hairdryers and straighteners these bonds get damaged. The outer structure of the ladder gets compromised and so do the ladder like rungs in between the outer structure. Once these bonds are broken they don't repair on their own, this is where K18 comes into play.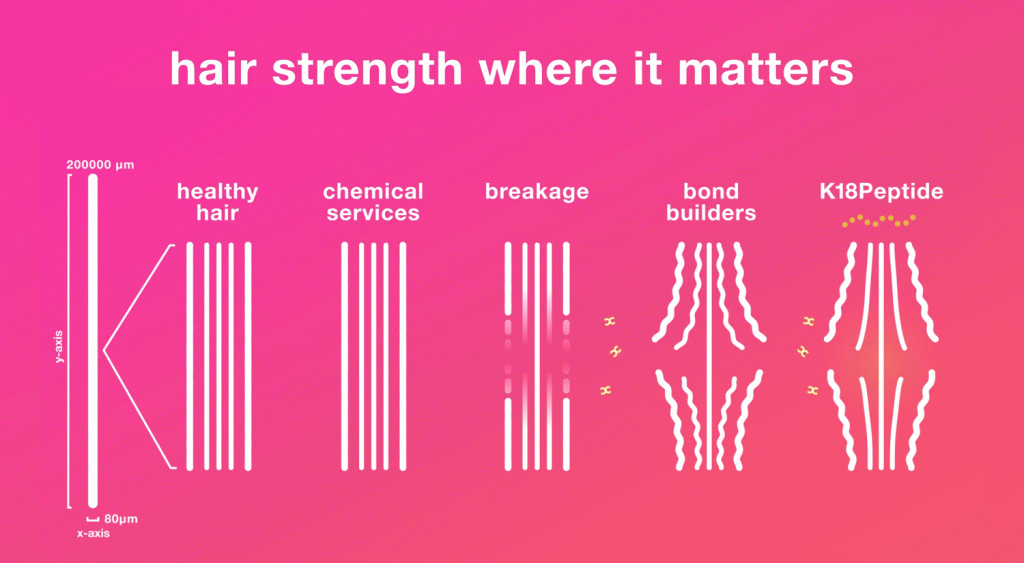 Once sprayed into the hair it will help to protect both the outer bond structure and the connecting bonds too providing less stress on the hair.
Why wouldn't anyone want to protect their hair from damage and ensure it will be stronger for longer?
Our Stylists are certified to use k18, they understand how it improves the hair and provides them with the confidence to deliver the colour results requested by our clients.
When you visit us for your next colour service ask our stylists to explain K18 to you. They can inform you on the take home mask to use in between salon visits to continue with protecting your hair from home styling too. It's used just once a week, applied to your cleansed hair and simply left in ready for you to blow dry as normal. A 55ml bottle will last you ONE YEAR…..that's just over £1 per application.
If I said to you for just £1 per week you can have healthier, stronger hair what would you say???
It's a no brainer
We look forward to seeing you in salon again soon.
Team Caprio's
Xx