New product Launch at Caprio's
New Product Launch
At Caprio's we use an array of high quality professional hair care. We strongly believe in maintaining healthy hair which starts in the salon and continues at home. Some salons and mobile stylists use cheap , lower grade products on their clients hair but not us……..we only use the best products on your hair in the salon. We will prescribe products for you invest in to use in between salon visits to ensure your hair is in the best health it can be.
Well now we've got a new range available in salon that we have simply fallen in LUST with……..MATRIX BIOLAGE RAW!
97% Natural
Up to 99% Biodegradable
Sulphate Free
Paraben Free
Silicone Free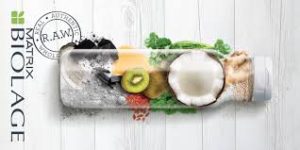 With reliably sourced natural ingredients such as Quinoa, Coconut, Honey, Kiwi, Coal,Clay, Goji Berries, Coriander to name but a few you can't help but be drawn into the smoothie like packaging, the beautiful smell (good enough to eat) and once used the shine results and silky soft, lightweight feel your hair is left with you'll be totally hooked.
Now don't be fooled into thinking that this kind of professional, natural product is going to be expensive because it's not. A 325ml bottle of Shampoo or Conditioner is only £17.99 , not only that but if you bring the empty bottle back into the salon for a refill it'll only cost you £10.00 per refill. Amazing! There is a Deep Conditioning Treatment to compliment each Shampoo too, a 500ml tub costs you only £23.00. believe me you won't be disappointed!
Pop into the salon to have a look at this fabulous new range, we've got bottles open in reception for you to view, smell and touch. We're also offering a FREE Body Shop Body Butter with every purchase only whilst stock lasts. So what are you waiting for……….treat your hair, treat yourself!