We're Recruiting hair Stylists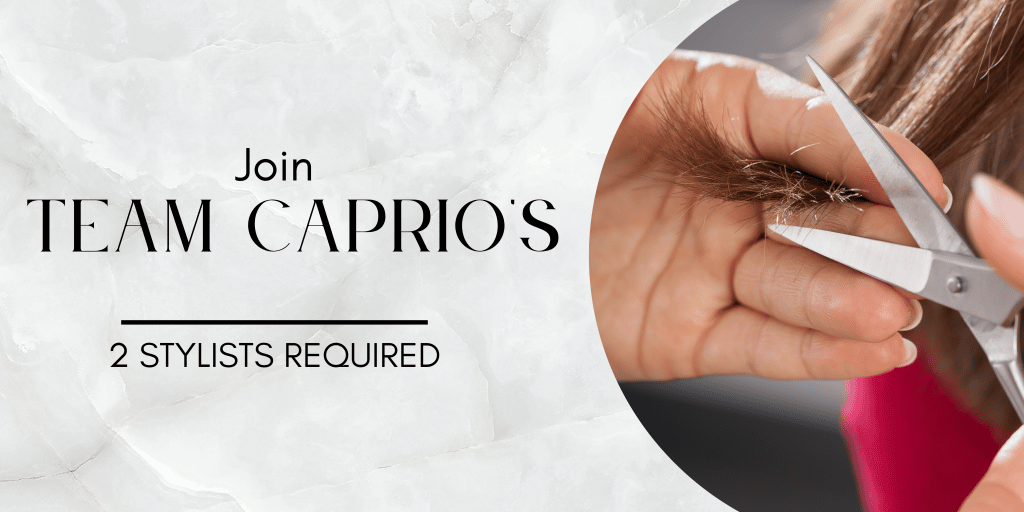 We're searching for two experienced hair stylists to join our team on a permanent basis.
Caprio's is a well-established salon having just celebrated its 24th anniversary so successful candidates will be part of a team of hair experts.
Caprio's have provided a high standard of hair dressing to the surrounding areas of Kingswinford & Wall Heath, Wordsley & Stourbridge, Wombourne & Wolverhampton, Brierly Hill & Dudley with some clients travelling much much further having been long standing loyal followers for many years.
What's on offer…
Stylists at Caprio's are offered the opportunity to develop their hairdressing skills with on-going training carried out either in salon or off site. Keeping up to date with what's hot and what's not in the world of hair is our main priority. Hairdressing is a fast-paced industry where stylists need to regularly expand their expertise, brush up on their skills and make sure they can deliver the latest techniques to clients.
Working at Caprio's provides Stylists with the skills to specialise in specific services such as Hair Extensions, Colour Mastery and Non-Chemical Straightening & Smoothing. If this is something you'd like to add to your expertise, then this position could be for you.
Our client base ranges from children to the more mature client including gents so we cater for hairdressing for all family. Our specialty is Hair Extensions for which we have won awards and just to spice things up a bit we have hosted in salon photo shoots for our award entries and purely just for fun so stylists can showcase their more creative side by stepping from behind the salon chair and move behind the camera to capture their true creative talent.
Caprio's who?…
Caprio's Hair Studio opened it's doors in 1998.
Salon owner Jo has been a hairdresser for over 35 years and still runs a busy column today as well as running the business side of everything so you will be employed by someone who knows how to build a great client following and also how to motivate and develop great stylists.
Currently a team of 4 x Stylists and 2 x assistants with a joint expertise in hairdressing of over 75 years, that's a lot of knowledge!
In a world which seems to be going backwards Caprio's Hair Studio is very much driving forwards by expanding the team, offering late night appointments for those that work 9-5, constantly showcasing the work produced by stylists and looking for ways in which to deliver great hairdressing.
Even with more and more people working from home the need for evening appointments is still in high demand so the job role will include working one late night a week until 8pm and working on a Saturday until 4pm. Saturdays are still our busiest days and play a huge part in what makes our stylists successful and in high demand.
With Team members on temporary leave due to maternity leave and others away with broken bones….Oh my god there has never been such a fantastic opportunity for new stylists to join us!
How to apply
If you are looking for a change don't let these uncertain times put you off, this salon is well established and willing to do everything to help you stive, build clients and work your way to earning commission on top of your guaranteed wage. Send in your CV today, you must be fully qualified and be up to date with all colouring and cutting techniques including clipper work and colour correction.
There's never been a more important time to know you have a guaranteed wage coming in, be part of a team and have the support and dedication from an employer.
FOR MORE INFORMATION AND TO VIEW OUR CAREEERS PAGE CLICK HERE
Join Team Caprio's and you can be all of the above XX