What's a bond additive and why should I have it in my colour?
What is it?…
If you're a guest at Caprio's Hair Studio and visit us for your hair colour service then you will have been asked if you're aware of Bond Ultim8. (If you haven't then you should have been!) Bond Ultim8 is a product that we add to your hair colour before application. We add it using a syringe when mixing your hair dye.
So what is it you ask?………individual strands of hair are structured by bonds, imagine a ladder, the outer poles are the outer of the hair and the inner rungs of the ladder are the bonds, they form the structure of your hair keeping it strong. Some of these bonds break when the hair is coloured and/or subject to heat from straighteners, hairdryers etc. Now some of the bonds self-repair but the most important ones, disulphur bonds do not which is why scientists have formulated such products as Ultim8. By adding Ultim8 to your colour these bonds will be protected and maintained leaving your hair healthier and stronger for longer which in turn will mean it can withstand the abuse we put our hair through for many years to come. Caprio's Stylists and colourists will give you the option to have Ultim8 added to your colour during the consultation period. It's your choice as to whether you want it or not but to be honest……. who wouldn't want healthier stronger hair?!
The 8 benefits of Bond Ultim8
1. Helps protect bonds during lightening
2. Maintains expected lift
3. No reformulation needed
4. No additional time needed
5. Helps prevent hair breakage
6. Helps preserve hair fibres
7. Deeply nourishes
8. Hair looks healthier
Who needs it?…
If you have your hair lightened then you definitely need Ultim8,
If you have long hair and have it coloured then you  need it too
If you like to  change your hair colour regular then you need it
If you have fine weak hair then your a must have it
If you torture your hair with straighteners or other heat styling tools on a regular basis and colour your hair then you need it
If you have a semi-permanent colour and treat your hair to regular conditioning treatments then you may not always want it
How much is it?…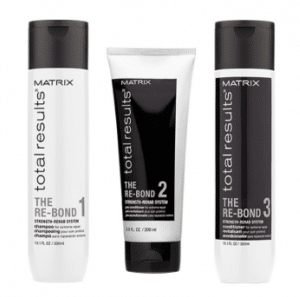 It's £10 per shot so not megabucks. Say you have your hair coloured every six weeks, that's around 8-9 times per year. At an additional £90 per year (or £1.73 per week) you can have healthier stronger hair. That's less than a coffee at Costa or Starbucks! Put like that and it's a no brainer.
Also now available is Matrix Re-Bond trio. if you've invested in Ultim8 in your colour then continue the protect and maintain regime at home. Individually priced at only  £9.95
So next time you visit us for your colour service ask your stylist about Bond Ultim8.