In need of a Barbers in Kingswinford? Here at Caprio's Hair Studio, we provide a quality hair cutting service for gents and children within Kingswinford and the local area. Finding a Barbers in Kingswinford that can provide a professional service is important, and that's why we are proud to offer a range of services as one of the top hair studios in the area.
Why Choose Caprio's As A Barbers In Kingswinford?
At Caprio's as your local hair studio, we always make sure to give our clients hairstyles they can be proud of that are both affordable and fashionable. Also, we take great delight in being knowledgeable, hospitable, and competent so that you will want to return to Caprio's Hair Salon as a chosen Barbers in Kingswinford.
Several of our customers have been with us for a long time, as shown by our wonderful testimonials, and they frequently praise our excellent customer service and genuine spirit of cooperation. As a result, whether you are a regular customer or a first-time visitor, we go above and beyond to make you feel valued as professional hair stylists. 
Choosing The Right Barber For You
Every man needs to know a trustworthy, knowledgeable barber. Having a regular Barber in Kingswinford will guarantee that every time you go, you'll get a consistent, well-groomed haircut. Before a crucial interview, you can get a trim without worrying about if you'll look like you were mauled by a weed whacker.
When looking for the right barber for you, you want a barber who can firmly advise you on what would suit you the most based on your requests as well as the structure and form of your face. Our hairstylists are competent and self-assured enough to speak up and provide ideas to the client about what might look better on their face.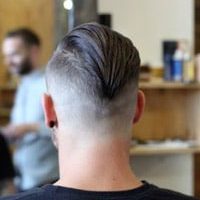 As experts in 'all things hair', we are able to offer our clients knowledge and options to help them choose a haircut that suits their shape face and overall look. At Caprios, we can provide men and kids with everything from hipster slick styles and short hair with blended grades to longer hair with a taper for maximum height and traditional pompadours.
As barbers in Kingswinford, we can see that short haircuts are consistently popular, although medium-length and chin-length styles are also growing increasingly fashionable. Depending on your particular hair needs, we can offer a range of appearances and styles. At our salon, you don't always need to schedule an appointment, but unlike a barbershop, we do have a booking system so you can be sure of a time slot with the shortest wait.
Up, down, half-up, braided, or even extensions - there are so many options for your prom hairstyle, and the style you choose will be highly impacted by the gown you're wearing that evening. You must determine when to generate your style after you've decided on it. Clearly, you'll finish this procedure on the day of the event, but how many hours ahead of time you create it is essential, especially if you're getting your makeup done and taking photos beforehand.
We can also provide you with lots of options when you choose us as a prom hairstylist near me, and with our extensive knowledge and creative hair stylists, we can pair the best hairstyle to your dress and makeup and offer suggestions should you need help!
Book A Consultation Today
Get in touch with us to schedule a consultation if you require a specialised barber in Kingswinford. You can also phone the salon at 01384 402 890 to talk with a member of our welcoming staff.