Check out our new Salon App….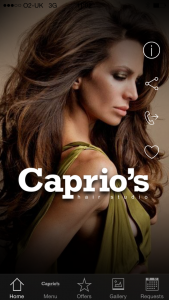 So, we've got a website and we're on facebook, we've got On-line booking facility and we keep you up to date with regular newsletters via email, phew!……so what next??????
Caprio's Hair Studio App of course!
I'm sure most of you know what an App is and I'm sure most of you know how to download one,So……what are you waiting for?……Simply go into your phone/ipad/tablet App store and type in the search  Caprio's Hair Studio, click on Install or get and away you go …simple! Now you can start to earn rewards for your loyalty, gain discounts for referring Friends & Family and get VIP Special offers only available to those clients with our App. How exciting!!!!  So go on then……..DOWNLOAD!